Consult a Chapter 7 Bankruptcy Attorney if You Face Insurmountable Debt
Ted Troutman is a Chapter 7 bankruptcy attorney in Portland, OR, who can assist in the discharge of your debts, helping you make a fresh financial start. Chapter 7 bankruptcy erases your debts by collecting any nonexempt assets and using those to settle what you owe. Chapter 7 is one of the most common bankruptcy options, but you must meet certain criteria to qualify and file. Contact our office today to schedule a free consultation, and we can help you determine if Chapter 7 is right for you.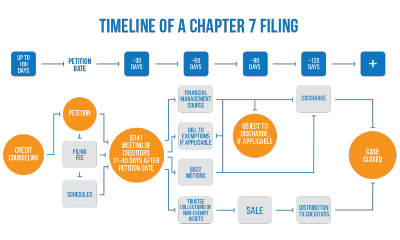 Chapter 7 bankruptcy offers consumers and businesses the option to liquidate their property and assets. Once liquidated, those funds are then used to settle most or all unsecured debts (debts with no collateral), including credit card and medical debts. Under Oregon state law, certain properties are exempt from liquidation, such as personal and household items, and some secured debts, such as a car. If you are behind on car payments, you have the option to reaffirm that debt, bring your payments current, and keep your vehicle. Some debts cannot be discharged through bankruptcy, such as child or spousal support payments, tax debt, and student loan debt. Chapter 7 is not for everyone, and you must meet certain criteria to qualify.
Chapter 7 is one of the most common bankruptcy options, but you must meet certain criteria to qualify and file.
Qualifying for Chapter 7
Prior to filing, you must take the means test to determine if you are eligible to file for Chapter 7. The test is only applicable to high-income filers. If your income falls below Oregon's median income based on your household size, you do not have to take the test and you can file Chapter 7. If your income is higher than the median, you must take the test to determine if some or all of your debts can be paid back through Chapter 13 filing. To complete the test, you will need to provide pay stubs and any other documentation of your income, along with documentation regarding your expenses and debts. Even if you pass the means test and are eligible to file a Chapter 7 bankruptcy, that does not mean it is the best course of action for your situation. Attorney Ted Troutman can help you determine whether filing Chapter 7 or Chapter 13 is best for you.
Chapter 7 Bankruptcy Filing Process
Once you have passed the means test and determined that filing Chapter 7 bankruptcy is right for you, you must undergo mandatory credit counseling, if you have not already done so. Once all preliminary requirements are complete, Mr. Troutman will file all the necessary paperwork on your behalf. As soon as the paperwork is filed, an automatic stay goes into effect, preventing creditors from contacting you and halting any foreclosure proceedings.
A trustee is appointed to your case by the court and ensures that your creditors receive as much payment as possible. A meeting of the creditors takes place, and you are required to attend. With Chapter 7 filings, this is more of a formality. Creditors do not typically attend and the meeting does not last long. Following the meeting, you must turn over all non-exempt assets to the trustee. If there are no changes, debts should be discharged within 60 days of the date of filing. Generally, the timeline of a Chapter 7 bankruptcy can last anywhere from four to six months.
Schedule Your Free Consultation
If you are considering filing bankruptcy, contact Troutman Law Firm today to schedule your consultation. After reviewing your unique situation and answering any questions you may have, we can help determine if Chapter 7 bankruptcy is right for you.
Message Our Staff
For any questions, inquiries, or to set up a consultation with us, please fill out the form below.