Burdensome debt is overwhelming and the risk of losing your home adds to the stress. Filing for Chapter 7 or Chapter 13 bankruptcy can help save your home if you are behind on mortgage payments or are already in foreclosure. Attorney Ted Troutman has been handling these types of cases and assisting clients for more than 30 years. For help avoiding a foreclosure in Portland, OR, or surrounding areas, reach out to our law firm today. We work with you to develop debt and money management strategies that meet your needs and fit your budget.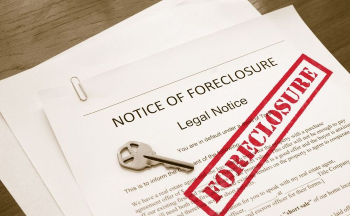 Dealing with a potential foreclosure can feel utterly overwhelming but you do not have to face the situation alone.
Understanding How Foreclosure Works
Foreclosure allows the bank to legally take back your home when the mortgage goes unpaid. In Oregon, a foreclosure can be done without the aid of the Court, or by the lender initiating a lawsuit.
Judicial vs. Non-Judicial Foreclosure
Certain conditions and language in the mortgage must be present for a lender to foreclose without filing a lawsuit. When these conditions exist, a lender proceeds by generally following several steps:
Notice of foreclosure is sent to the debtor, outlining the timeline for resolution and possible sale of the home.

A borrower may reinstate the loan up to five days before the sale takes place, saving the home from foreclosure.

The buyer at a foreclosure sale is entitled to take possession of the home ten days after the sale concludes.
The judicial foreclosure process is slightly different:
The lender must file a petition and serve it according to legal standards. If you fail to answer, a judgment will be entered against you and a sale date set.

Defenses may be raised in an answer, putting issues of default and the right to sue for foreclosure squarely before the Court for determination.

Once the lender is able to obtain a judgment, a sale date is set.
A judicial foreclosure takes a bit longer than the non-judicial option, but in either case, a homeowner should be ready to defend the action in order to stay in the property.
Bankruptcy as an Effective Tool against Foreclosure
The moment a bankruptcy case is filed, a legal mechanism referred to as the "automatic stay" is put in place, prohibiting creditors from contacting consumers about past due debts, and preventing initiation or continuation of a lawsuit. If you have received a notice of foreclosure, filing bankruptcy will immediately stop that action and give you a chance to reorganize your debts into manageable repayment options. Many consumers prefer to file for Chapter 7 bankruptcy, but a Chapter 13 case can also be helpful.
Chapter 7 Bankruptcy
Chapter 7 is a liquidation of debt, allowing borrowers to completely eliminate unsecured debts while maintaining payments on secured obligations. This means credit cards and medical bills are reduced to a zero balance, freeing up money in the budget to get and stay current on secured loans like homes and cars. A Chapter 7 case is usually completed in three to four months, giving a debtor a fresh start quickly.
Chapter 13 Bankruptcy
Chapter 13 is a reorganization of debt, whereby the debtor proposes a plan of debt repayment. The benefit to this type of case is that certain secured obligations can be modified either in the amount due or in the interest rate tied to the loan. This results in significant savings and gives borrowers the chance to budget for what is due and pay monthly payments. The Chapter 13 trustee will take the monthly plan payment and disburse it to creditors, in an amount ordered by the Court to be repaid. A Chapter 13 case can take between three and five years to finish, typically with the option to pay off the entire plan early if the debtor becomes capable.
Burdensome debt is overwhelming and the risk of losing your home adds to the stress. Learn about foreclosures and options to save your house by letting a compassionate attorney help.
In both types of cases, a homeowner can save their home from foreclosure. In Chapter 7, the buyer may reaffirm the debt, and is better able to make the mortgage payments once high-interest rate credit card payments are no longer due. With Chapter 13, the borrower is allowed to cure past due mortgage arrears over time rather than immediately, and still maintain ongoing monthly payments. Other debts, such as credit cards and unsecured obligations, are paid a percentage of what is owed in Chapter 13. The reduced balances allow debtors to have the funds that fit their budget and pay only what is feasible.
Protect Your Home
Learn about foreclosures and options to save your house by letting a compassionate attorney guide you. If you have overwhelming debt, contact us online or call to schedule an appointment. Attorney Ted Troutman can help you get a handle on your finances today, so you can get the fresh start you deserve.
Message Our Staff
For any questions, inquiries, or to set up a consultation with us, please fill out the form below.